By Kitinan Sanguansak - AFF Thai correspondent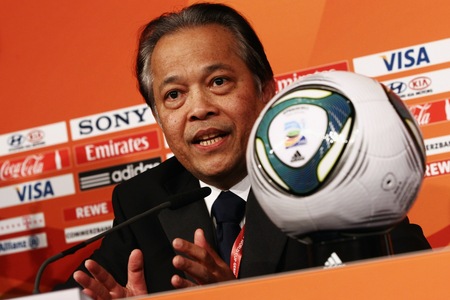 Worawi Makudi might have been relieved to retain his post as the Football Association of Thailand president for a third successive term but he will face the most difficult time in the seat he has held since 2007.
Even though the change of regime that many people had expected failed to materialise, the doubt on whether Worawi was a man who could take Thai football forward, still persisted in the public despite the emphatic nature of his victory in the voting barely two weeks ago.
A total of 123 from a total of 168 votes that Worawi received in the rescheduled election appeared inconceivable for people, who doubted whether the FAT chief would have been given such overwhelming support had the poll not been postponed last month.
Back then, it appeared a defeat staring on Worawi's face after a secret survey suggested the incumbent fell behind his main challenger Virat Chanpanich, which was believed to be a real reason behind the controversial postponement of the election.
It proved difficult to think otherwise when looking into the association's handling of the duplication of the member club's authorisation letter. Worawi cited the problem as a reason to call off the voting last month. But, even though the rearranged poll was marred by a repeat of such controversy, it was allowed to proceed this time when the association acted decisively by stripping a voting right of a member club in question.
The question was why they did not do so a month ago?
That was because Worawi was certain that he could win this time around after resorting to his connection with a national politician to accrue more votes. In fact, he owed much to the political influence which allowed him to hold an election beyond a period stated by the law after his previous term ended in December.
So powerful was the political influence that Worawi received a number of votes that nearly tripled the amount Virat got (44), while another challenger Pichate Munkong received only one. What a pleasant man Worawi, who also sits in the FIFA's executive committee, would be after surviving from personal storm unscathed with another term in the FAT office and having his name cleared of bribery allegations relating to the World Cup voting process.
Realising that he has much work to do to win his support back in the public following the Thai side's miserable run of results in international tournaments during his reign, Worawi vowed to lead a reform of the national team setup.
Although Worawi did not elaborate on what he planned to do to revive the Thais' fortunes, it was good sign that he eventually knew where the root cause of the team's malaise lied.
Unfortunately, it was relatively late since many of the neighbour countries, most notably Malaysia following its double successes in SEA Games and the ASEAN Championship, have made huge progress while Thai football came to a standstill.
Worawi marked the beginning of his third term with a decision to hire German trainer Winfried Schaefer as the new national team coach, with the two parties yet to sign a contract. Although the veteran tactician did not enjoy such glittering a playing career as his predecessor Bryan Robson, the reaction to his proposed move was positive since fans now realised fame on the field count for nothing following the former Manchester United captain's ill-fated reign.
With Worawi now away in Germany due to his FIFA commitments at the Women's World Cup, no one knows when the German would start his work despite the World Cup second round tie against either Palestine and Afghanistan looming next month.
That did not augur well for a new dawn he promised. And, it showed he was not aware of the potential risk that his tenure was only one poor result away from a fresh round of savage criticism from those people still unease with his prolonged time in the office.