By Nobuyuki Tosey
Japan have performed well in Mexico
The U17 World Cup is a competition where footballing education should really be prioritised over the demands of silverware. The idea is that it provides a first taste of international tournament football and high class opposition in an unfamiliar environment for those involved.
However, for developing footballing nations such as Japan - whose youth systems are still in relative infancy - these tournaments provide an important indication of how the level of the young players produced by the current system fair against the top nations.
Furthermore with Japan having had numerous foreign coaches for the national team over the last decade, there's an interest in whether Japanese coach Hirofumi Yoshitake could go toe to toe with his international counterparts.
Japan faced a tough task to qualify out of their group as they faced fellow underdogs Jamaica and two world heavyweights in France and Argentina. Coach Yoshitake hoped that the 4-2-3-1 formation exhibited in the past by both the full national team and recently the U22's, would be the system to help them to progress.
It's a formation that suits the type of ball playing, not so physical players Japan produces: focusing on possession, collective defending and requiring intelligent runs and quick passes to create chances. Having watched the National team be frustrated by a lack of penetration when using this formation it would be interesting to see if such a young side had the tactical awareness to utilise it to full effect.
Jamaica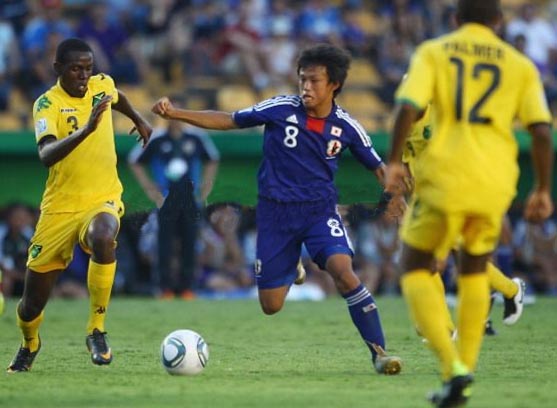 Ishige in action against Jamaica


Getty Images
After a slow start it was the Jamaicans who came closest early on. Jamaica captain Omar Holness collected the ball, turned sharply and his shot from 30 yards struck the post with Nakamura beaten.
As Japan settled they saw more possession, but chances were few and far between for both teams and although Japan had a bright period towards the end of the half it didn't result in a goal. As is so often the case in tournament football, a substitution would change the shape of the game.
Yoshitake brought on Jamaican born Musashi Suzuki at half time to widen the attacking threat. It worked, Suzuki's width energetically supported by the left back Hayakawa often overlapping, stretched the Jamaican defence and resulted in more frequent chances for the Japanese.
The trend of Japan producing good attacking full backs as seen with Nagatomo, Uchida and now Sakai in the U22's, continues with this U17 team. A great run from the full back Muroya down the right gave the option for Matsumoto, who played a one-two with the marauding full back, took his first touch with his right and finished with his left.
With Jamaica searching for a winner, Japan nullified the threat with a mature display of possession football (61%) and the use of the physical, yet less technically gifted Suzuki as an outlet to close out the game. Although Japan hadn't been at their best and chances were scarce, their possession game and defensive organisation meant that they were unlikely to concede.
France
Suzuki - not the best technically but good on the ball


Getty Images
If the Japanese weren't wary of the French already, they would have had to have taken note when France destroyed Argentina 3-0 in their opening game. But in a sign of the growing belief that Japan is ready to compete at the upper echelons of world football, Yoshitake expressed his confidence of a positive outcome. Obviously impressed by what he had seen, he opted to use Suzuki in a central role and pushed Hayakawa up to the left of the attacking midfield three.
Despite a bright start, France's superiority in terms of individual talent and physicality began to tell. Lenny Nangis was giving Muroya all sorts of problems as he struggled to adapt playing left back and the strong and powerful Zouma was preventing much of an attacking threat. It wasn't long until Japan found themselves behind; Zouma intercepted the ball just outside his penalty area, drove through the midfield and laid off the ball to Nkusu, he found Yaisien, who took a touch to set himself and from the edge of the area caressed the ball into the top corner. Japan seemed rattled and were perhaps lucky to stay in the game after not being punished for individual errors.
Towards the end of the half Japan were able to instigate their passing game, but Suzuki was struggling to be the focus of the attack and it was hard to see where the goal would come from. Yoshitake once again made a change at half time, moving Suzuki to the right and taking off Akino for the more natural striker Minamino.
With Minamino being able to provide a better focus for the attacking midfield trio to work off of Japan were impressing. After good work down the left from Hayakwa, Ishige burst into the box and was fouled for a penalty. He picked himself up and sent the keeper the wrong way for the equaliser. Japan were brimming with confidence and twice Ishige should have put Japan in front after both Suzuki (shot wide) and Hayakawa (shot blocked) managed to break down the left and cut back to the number 8.
They almost paid for not taking their chances, as but for a good Nakamura save from a Meite shot they could have lost. Having said that, Japan finished the game frustrated as after the interval they completely turned the game around, managed 62% possession and the better chances to get the winner.
Argentina
Ueda celebrates scoring against Argentina


Getty Images
Knowing that they only needed a draw to advance, coach Hirofumi Yoshitake took the bold step of making six changes for the game against Argentina, leaving out all of those on a yellow card. However it wasn't long before the decision paid off, as once again a Japanese full back showed attacking qualities. Kawaguchi burst past his opposite man and into the penalty area, managed to toe-poke at goal and with the keeper spilling, 15 year old Daisuke Takagi was on hand to open the scoring.
Argentina responded well for a 10 minute period and put the defence under pressure. But after holding out centre back Ueda rose highest to head Japan into a two goal lead from a well delivered Akino corner. The Argentinians were obviously frustrated and after Zarate was booked for catching Takagi in the first half, Montero was given his marching orders in the second with a nasty stamp on Akino.
With a 2-0 lead and a man advantage the game was pretty much sewn up. This was made sure of when, yet again, Suzuki (on as substitute) ran down the left, crossed for Akino and who buried the rebound after his first shot was parried. A clean sheet would have been good for confidence and despite flapping for a few crosses, second choice goalkeeper Niekawa had done well and made a magnificent save from an Ocampos header.
But it wasn't to be, as Bruno Ferreira beat him from all of 40 yards with a magnificent strike. The game finished 3-1 and thanks to France drawing 1-1 with Jamaica, Japan had won the group and faced New Zealand in the quarter finals.
New Zealand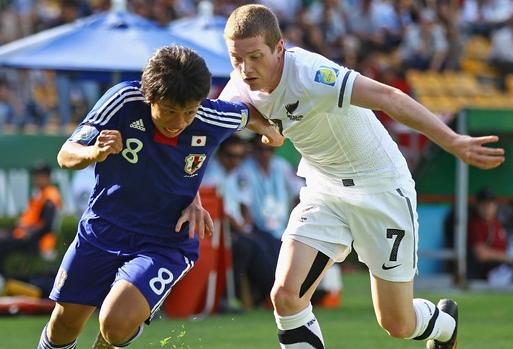 Ishige in action against New Zealand
New Zealand proposed an interesting challenge for this Japan side. They too had only conceded two goals in the group stages and the coach Aaron McFarland emphasised the team ethic in his side as their main asset.
The premise seemed to be that this New Zealand side would be tough to break down and with a quarter final against Brazil at stake, Yoshitake slightly changed the formation to be more attacking.
Mochizuki took up a sole holding role and Ishige was pushed up to play off of Matsumoto in a sort of 4-1-3-1-1. Iwanami and Muroya came back into the defence, meaning that once again Hayakawa was pushed up to the left of the midfield three.
The attacking intent was clear and after a scrappy start it began to be put into practice. Once again Muroya and Kawaguchi were tirelessly overlapping and Hayakawa was thriving in his advanced role.
The breakthrough came after Ishige, having already had one cross-cum-shot well saved by New Zealand keeper Basalaj, won the ball off the full back Colvey and saw his cross float over the helpless keeper and in off the back post. Soon after Japan were two up; the lively Hayakawa was played in over the top via a delightful ball by Mochizuki and he simply rolled the ball across to Ishige for his second. Japan's game plan to find gaps between the centre back and full back was working and it wasn't long before it was three.
Matsumoto dropped deep and played that same ball, this time on the right, and after Ishige rather selfishly shot at goal, Hayakawa tucked in the rebound. It got worse for New Zealand before half time, when a lovely one-two between Hayakawa and Mochizuki down the left resulted in his shot being palmed by the keeper into the path of Colvey, who could only watch it bounce off of him and go in for 4-0. Strangely, with no apparent injury forcing the change, Yoshitake brought off holding player Mochizuki for striker Minamino in the 44th
minute. Perhaps he knew the game was won and was already experimenting for the Brazil game.
New Zealand were clearly intent on damage limitation but the second half continued in similar fashion. The fifth goal came when once again Matsumoto, doing well in his new role out wide, laid the ball off for the advancing Muroya and his cross was tapped home by Minamino. The Japanese showed no signs of seeing the game out and continued to foray forward.
Minamino was fortunate to see his pass come back to him off of the referee, found Akino, whose crisp pass was collected by Hayakawa who calmly finished. 6-0 and although New Zealand had been poor, Japan had been very good nonetheless and thoroughly deserved the chance to take on Brazil in the quarters. A nice touch towards the end saw goalkeeper Awaka brought on, meaning that Yoshitake has already used his entire squad in the tournament.
Summary
This Japan team has impressed a lot of people. They have averaged 60% possession and shown a surprising amount of tactical awareness and maturity so far. More importantly it's encouraging that the players and the coaches are addressing their faults after each game and consequently have improved and gathered momentum.
Despite having played well in the group stages the lack of clinical finishing was worrying - the scoreline against Argentina was largely glorified by awful goalkeeping and they should have beaten France but were wasteful. The changes in both personnel and tactics in the New Zealand game certainly addressed this issue.
Yoshitake has managed to find a system to accommodate the width Kawaguchi, Muroya, Hayakawa and Mastumoto all provide and in Minamino there is a lively goal threat. Akino is one of the more technically gifted players in the team and his new found role in the centre looks promising if the surrounding players can continue to give him options.
Perhaps most importantly, in Ishige, Japan have a player naturally gifted at arriving into the box at the right time and he could well be the source of their goals against Brazil.
Defensively the team looks good, yet bar the France game, they've been largely untested. They have looked most vulnerable when being hit on the counter and forced to run back towards their own goal.
With the talented pair of Piazon and Ademilson to deal with, they will certainly be tested in this area. Add to that that the set piece delivery from Adryan is probably the best at the tournament and it's clear that if Japan are to progress the back four will have to work harder than they have had to so far.
Finally, whether Yoshitake uses two holding players or sticks to the formation that served them well today will be crucial. So far he has been bold with both his tactics and confidence in pre-match build ups and it's a difficult balancing act as clearly this Japan side are on a high, yet Brazil will have to be respected for the quality they possess.
In that space in front of the back four Adryan will need to be kept quiet, as will Ademilson, who has shown his talent for shooting from range by scoring three goals from outside the box already.
However, Ivory Coast showed that the game can be taken to Brazil and Japan should take confidence from that, let alone the performances that they have put in themselves so far this tournament.