Australia and Bahrain do battle in a
previous World Cup Qualifier
On paper it's a David vs. Goliath battle between two nations with starkly contrasting football landscapes.
The stats alone highlight the gulf between the two nations.
On one hand, a nation of over 20 million with well over a million registered football players and a fully professional football league.
On the other, a nation of just 700,000 with only 4000 registered players and a semi-professional football league.
On paper it should be an easy victory for Australia, but as the saying goes – they play on grass, not paper.
And that is something Australia knows only too well from their last experience in Manama in November 2008.
Australia
was comprehensively outplayed, and were it not for the wayward shooting of Jaycee John, would have been humbled by the tiny Gulf nation. As it were a Mark Bresciano strike in the 90th minute saved Australia's blushes.
It's an experience and a game that sticks in the mind of all Australians and one that will be recounted numerous times over in the lead-up to tonight's clash.
It should be an experience that reminds the Socceroos that Bahrain are not to be taken lightly – afterall this is the team that has come agonisingly close to qualifying for the last two FIFA World Cup's, falling at the last hurdle on both occasions.
But they have had an unstable last few months, with Josef Hickersberger deserting his post as national team coach after just three months, with Salman Sharida taking over just months before the start of the Asian Cup.
And they come into this game missing a number of key players.
Faouzi Aaish, who has caused problems for Australia in the past, is suspended after picking up a stupid red card late in the game against India.
Hussain Salman, a regular in previous squads, wasn't selected in the 23-man squad due to injury, as was captain Mohammed Salmeen.
It is a situation that will test the depth of the Bahrainis.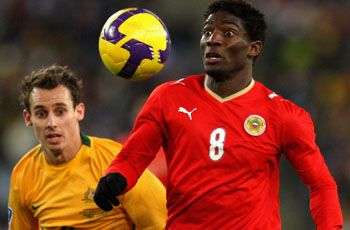 Jaycee John takes on Luke Wilkshire

Australia
cannot afford to be complacent though, especially with the dangerous Jaycee John and the four-goal hero from their clash with India,
Ismail Abdullatif, still in the line-up.
Australia has shown has a tendency so far to go direct, and with the aerial threat of Tim Cahill in the side, it is perhaps an understandable tactic.
And they would have taken comfort from the fact that Bahrain conceded their first goal to India from a set piece.
A free kick, taken from near the half way line, was whipped into the box and Yadav Abhishek out-jumped the Bahrain defence and headed the ball back across goal where Gouramangi Singh, who trialed for Melbourne Heart in the pre-season, was left free to tap in India's first goal of the tournament.
If Bahrain allow Australia that much room in the box, they'll eventually feel the wrath of a strike force containing a red-hot Cahill and Harry Kewell.
Australia
also come into this game with players under a injury cloud, with Jason Culina and Luke Wilkshire ruled out and David Carney facing a late fitness test.
It has the potential to expose Australia's weaknesses, espcially given the lack of cover for Wilkshire and Carney, the only recognised right and left backs in the squad. It is an area that Bahrain will look to exploit if in fact Carney doesn't get up, although it is looking increasingly likely that he will.
The stage is set, the stakes are high; all that remains to be seen is who will emerge victorious.