Kashima's English language website
As the number of Japanese players leavings its shores to ply their trade overseas increases, so too does interest in the J. League.
But is the J. League, and by association its clubs, doing enough to satisfy those who cannot speak Japanese, especially the English speaking world?
Outside interest in the J. League is a relatively new phenomenon, at least on the scale it is today. For a country such as Japan, which for so long has only had need to worry about its own needs and desires, it is a phenomenon that is still taking time to get used to.
"Japan is still adjusting to the fact that the outside world is taking an interest in the J. League," Sean Carroll, one of the leading English-language journalists to cover the game in Japan, explained.
"The country is accustomed to everyone with an interest being able to read, write and understand Japanese, so consideration of those who can't is naturally taking some time
."
Whilst most, if not all, clubs acknowledge the fact that interest in the J. League is increasing, few are really embracing this new frontier and trying to really capture this new market.
Only half of the 18 J. League clubs have a website available in English, and whilst these are slowly improving most could be described as basic at best. Although to be fair to the clubs, there is a bit of "chicken and egg" about the situation.
What comes first – a great English-language website to attract a new audience, or a large English-speaking audience that makes a great English-language website worthwhile?
Despite perceptions to the contrary, not all J. League clubs have endless pits of money, so the decision to develop an English-language website is an important one as it is requires a large investment by the club.
The same goes for head office.
The J. League provides an English-language website, which is updated weekly, and has an online newsletter that comes out every two months. They admit, however, that there is room for improvement.
"We understand that we have to improve our publications for the global community, but on the other hand, we have a limited budget," the J. League's Media Officer, Rina Iwamoto told Asian Football Feast.
"It is difficult issue for us."
One of the major tools for keeping in contact and engaging with fans is via social networking sites such as Facebook and twitter. This is an area no club is yet to tap in to.
The views from the clubs on this issue are mixed. Asian Football Feast spoke to a few J. League clubs and put the question of social media (in English) to them.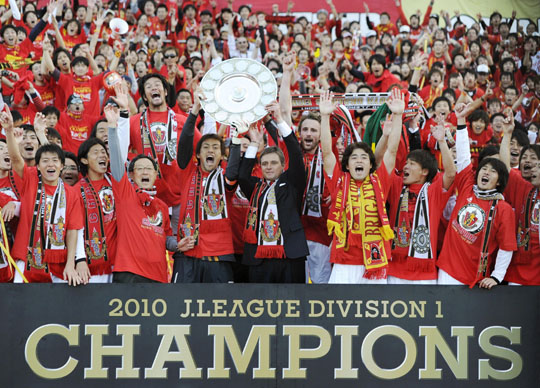 Nagoya, the 2010 J. League Champions, will look
at social networking in English in the future
"Yes," was the answer from Nagoya Grampus, who also added, "but the timeframe is not clear."
Gamba Osaka, on the other hand, said they had no intention of going down that path.
"No, we are not interested in doing those services," their Media Officer, Kana Koizumi, said.
To their credit though, they realise they need to improve their English-language options.
"Our club has the English site, but that is all. We know it is not enough," Koizumi continued.
It is an area the J. League is looking to improve. They currently have a Facebook page that, on occasion, has information in both Japanese and English. They are looking to change it to show all information in English.
It is a step in the right direction.
Television remains the best way for people to follow the J. League, as without actually being able to view the live action, interest will quickly dwindle away. Only the hardcore will seek out live streams over the internet.
And this is where the increased level of interest in the J. League can be seen.
The J. League is now broadcast in over 100 countries across Asia-Pacific, Europe, North America and Africa.
Speaking exclusively to Asian Football Feast, James Clarke (Senior Vice-President, Content, World Sports Group) explained that the interest in the J. League is now genuine.
"Four or five years ago there were only a handful of broadcasters showing the matches and they often only showed matches when there was a famous player from their own country playing for a Japanese team," Clarke said
"We now have a broadcast roster that covers most of the main football markets in Asia, Africa and Europe, and people are watching it for what it is: good, open, entertaining football."

As with anything though, there are limitations. World Sports Group holds the international distribution rights for the J. League, but they are restricted by what the Japanese broadcasters provide.
Currently that is only one game per week, something WSG wants to change.
"The limitations are related to the number of matches made available by the broadcasters in Japan," Clarke explained.
"We would like to show two matches or more per weekend - we're working on it with our Japanese partners now."
Urawa has many fans in Japan and across the globe
Another step in the right direction.
Australia's move into the Asian Football Confederation has seen an increased level of interest in the J. League from the island nation, especially with the advent of the 3+1 rule which means more and more Australian's are making their way to the J. League.

This season four Australian's (Josh Kennedy, Alex Brosque, Eddy Bosnar and Matt Spiranovic) are on the books of J. League clubs, with another two (Mark Milligan and Jade North) playing for second division (J2) sides.
It is this increased level of involvement and interest that prompted Setanta Sports Australia to purchase the rights to the J. League at the start of the 2010 season.
When asked by Asian Football Feast why they purchased the rights to the J. League, Connor Woods, General Manager of Setanta Sports Australia & Asia, explained:
"The J. League is the number one domestic football league in Asia. With Australia's move to join the AFC and participation of A-League clubs in the Asian Champions League, we believed there would be wider interest in the J. League in Australia as fans became more familiar with the teams."
"Additionally, the change to the foreigners rule in the J. League to allow more AFC players has meant more Aussies are playing in Japan."
Woods also wants to see the J. League clubs do more to engage their international fans, particularly in Australia.
"It is important for the J-League to ensure its matches are broadcast in Australia," Woods said.
"The J. League has an opportunity to establish itself as the most popular Asian league within other AFC countries. Teams such as Urawa Reds already have some following in Australia and should really be seeking to maximise their following."
"We would love to see more engagement from the J. League clubs with the international opportunity and leveraging their Australian stars to grow their support in this country."
They are sentiments that are no doubt shared by every J. League fan across the globe.
So to answer the original question - is the J. League doing enough to satisfy those who cannot speak Japanese? – the answer is probably. Just.
But in a world where our thirst for information gets bigger by the day, the J. League needs to keep pace with rising expectations.
Whether they do remains to be seen, but from what we're seeing and hearing the signs look good.
J. LEAGUE ENGLISH-LANGUAGE WEBSITES