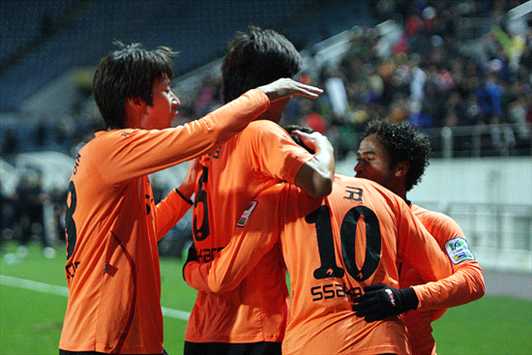 Jeju United players celebrate a goal last season
Before the 2010 K-League season it's fair to say that not many people expected Jeju United to play a major role in the Championship battle.
But the team who has changed its name three times since its inaugural season in 1983 (when it was known as Yukong Kokkiri) did just that, taking the challenge to the traditional "powerhouse" teams of Korea, coming within a whisker of claiming the title.
After a slow start to the season, which saw them win only two of the first seven games, they really hit their straps around the mid-way point and they topped the table for 11 of the last 15 weeks and went 14 games undefeated before the K-League Championship Playoff.
Jeju started the 2010 season under the guidance of new manager Park Kyung-hoon, who implemented a game plan largely based on defence with a strong counter attack.
Crucial to that was midfield maestro Koo Ja-cheol, who had a breakout season which was capped off with an equally standout performance for Korea Republic at the 2011 AFC Asian Cup. It was enough to attract interest from Europe and before the start of the 2011 K-League season Koo completed a move to VfL Wolfsburg in Germany.
If Koo was the creator in midfield, then Kim Eun-jung was the man who put the finishing touches on Koo's handywork.
Kim was Jeju's leading scorer with 13 goals, and chipped in for nine assists, with his all-round game enough to see him take out the K-League's MVP Award at the end of the season.
But as the saying goes, Championships are built on a strong defence. And while Jeju fell at the final hurdle, their defence was certainly the cornerstone of their season. They conceded the least amount of goals of any team, just 25 in 28 games.
Their main man at the back was Hong Jeong-ho, who at the tender age of just 21, marshalled his defence with aplomb. His strong season was recognised with a place in the K-League Team of the Year and the 23-man squad for Korea Republic for the 2011 AFC Asian Cup.
There is a great deal of interest in how Jeju will back-up this season, especially given they no longer the element of surprise nor do they have their best player from last season in Koo Ja-cheol.
They have started the 2011 K-League season in decent form, registering a 2-1 win over Busan I'Park in the first round before playing out a 0-0 draw with Incheon United on the weekend.
This is the first ever time in the AFC Champions League and they didn't get their campaign off to a good start when they lost 0-1 to Tianjin Teda at home on Match Day 1. Whilst they dominated large parts of the game they couldn't capitalise and they succumbed to a Zhang Xiobin strike in the 54th minute.
Jeju aren't a perennial powerhouse of Korean football and their lack of experience in continental Football could present Melbourne with a great opportunity to put a tough few weeks behind them.
Given both teams lost their opening games neither can afford to drop the three points in this one, otherwise they can all but write off their chances of advancing to the Round of 16.